Colocation in Vietnam is a hosting service where the website owner puts his/her server on a facility owned by a colocation hosting provider.
What is colocation? How colocation in Vietnam benefits business?
Colocation in Vietnam is a hosting service where the website owner puts his/her server on a facility owned by a colocation hosting provider.
1. What is colocation in Vietnam?
Colocation in Vietnam service allows customers to rent physical space for their own server. All servers will be placed in service provider's data center. Colocation provides customers a private space with the purpose of using data center's utilities and high quality connection to the Internet.
2. What are the pros and cons of a colocation in Vietnam?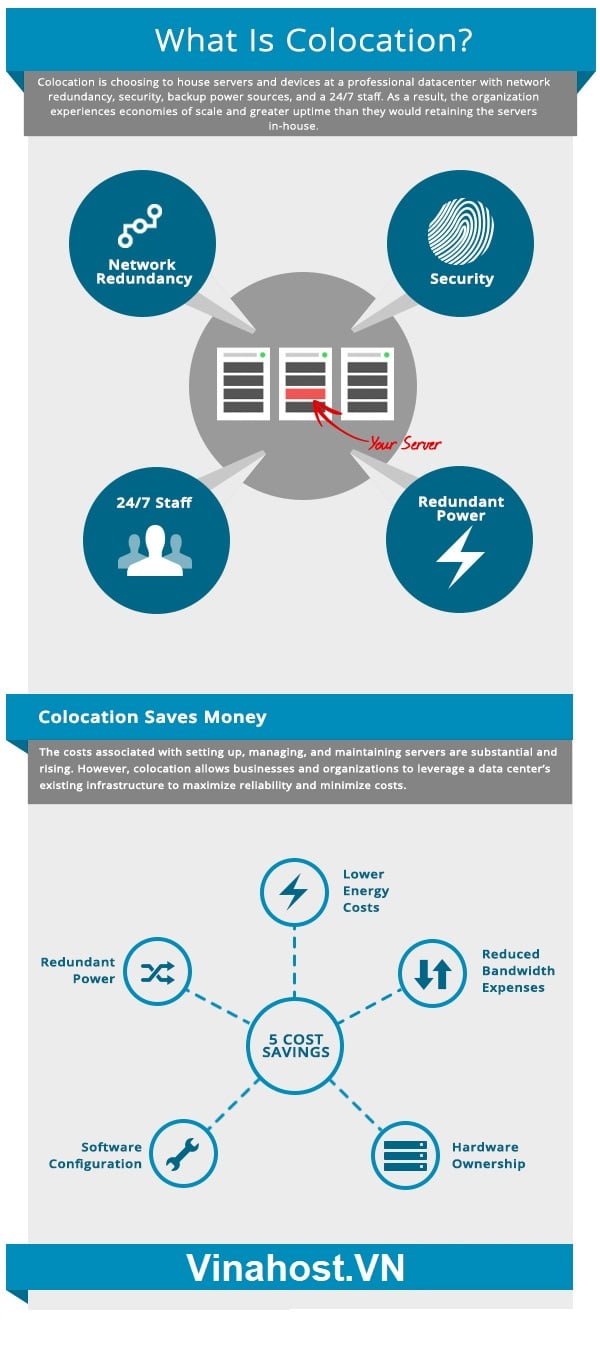 Pros
Cons

Reduced risk of network outages: Businesses can have constant network uptime, usually 99.982% with a Tier-III Data Centre, when opting colocation service as colocations have redundant systems in place that make sure the networking is always up, even after unfortunate event of system failure. Colocation vendors also utilize virtualization that offers clients recent system snapshots that may help them recover from nasty system failures.
Flexibility to choose software and hardware specification: With colocation arrangement, you have an option to choose hardware and software specification of your business needs. The colocations only offer the essential network infrastructure along with the physical space in form of cabinets or server racks or cage for housing servers. The clients themselves are responsible for buying software and hardware that best meet their business requirements.
Affordable: Budget may be the biggest constraint for startups and SMEs. By co-locating their servers in a shared environment, they actually share costs among multi-customer thus saving huge money that would have spent in establishing their own in-house Data Centers. Additionally, it allows them to reap the benefits premium bandwidth at a lower cost and the services of specialized professionals that would not be reasonable for them if running own Data Centers.

Maintenance at remotely located 3rd-party Data Center: Since your server is housed in a remotely located third-party Data Center and you are responsible for maintenance yourself, it becomes a time-consuming affair to send your professionals at the Data Centre every time there's issue arises.
Responsibility to manage server: Hardware and deployments are yours so are the responsibility to fix issues whey occur. The onus to fix such issues is on you as you would have been doing in your on premise Data Centre. If you do not have seasoned-geek to solve such issues, you may have a tougher time trying to bring server operation in normal condition, making colocation a big 'thumb-down' for you.
Huge upfront-cost: Colocation Vietnam is no doubt a great option for businesses that have budget and resource constraints. But it should not be interpreted that colocation does not require upfront costs. As you would be purchasing your requisite software and hardware for colocation, the upfront costs will still be huge.
3. What are the basic difference and similarities between colocation in Vietnam and Dedicated server?
| | |
| --- | --- |
| DEDICATED SERVER | COLOCATION IN VIETNAM |
| Dedicated server service meets the demands of expanding hardware to run large websites and store big data. This service is suitable with large enterprises that have strong budget or run short-term projects. | Colocation service meets the demands of locating servers in Tier 3 data centers that ensure high transmission speeds and 24/7 technical support. This service is suitable with enterprises that have stable budget, run long-term project and are capable of self- system administering. |
What are the basic differences?
The owner owns the server, the routers and the other hardware and software that are kept in the data center. The role of the colocation vendor is to provide for the electric and power needs to keep the server running, internet access and storage facilities. One of the most basic reasons why businesses chooses colocation data center is that they may have outgrown their available space and the only other solution would be to place it in another location rather than building or retrofitting their present structure that would be very costly.
Dedicated server is a service where the server that is housed in the Data Center as well as the other equipment and software used in the operation of the server is owned by the hosting service vendor. Basically, the customer does not get to own the server but rather only rents it. The hosting vendor provides all the necessary services needed to run the Data Center including maintenance, backup and physical security. Though the company owns the server, the site owner enjoys complete control over the site's content and build but the company gets to decide when to upgrade the server.
Their basic difference lies in the fact that colocations are owned by the site owner while dedicated hosting servers are fully owned by the hosting company and are only rented by the site owner.
What similarities?
In reality, colocation and dedicated server share a number of similarities which is the reason why people usually confuse colocation with dedicated sever or dedicated hosting with colocation. These similarities are the following:
Both colocation services as well as dedicated server are solely dedicated to your web. That means you don't have to share its resources with any other user. And two of them are considered to be expensive compared to other hosting solutions however both are also recognized to bring benefits that far outweigh their cost. Dedicated server and colocation are used by large enterprise and webs that value hands-on control, security, privacy, space and the important resources of their servers.
Both come with the option to be managed or unmanaged. Managed means that the hosting vendor takes care of everything for you, saves for those that you want to manage yourself whilst unmanaged hosting means that you are responsible for everything in your site.
The answer to the question of which is better between colocation and dedicated server is really dependent upon the choice of the site owner. They only differ in the ownership of the servers which puts them at par with each other in terms of performance as owners get to choose the type and specifications of their servers. The main difference is in the price, if you want to escape paying a huge upfront amount yet pay a bigger monthly fee, go for choosing dedicated server. But if you're willing to take the risk of spending a bigger amount upfront and get to enjoy the fruits later, then colocation is definitely for you.
4. How to choose the right Colocation In VietNam for your business?
An appropriate colocation not only reduces costs but also increases the performance of your server.
Where will server be located?
Servers are not always placed in the standardized colo data center. In some specific fields, servers have to be placed outside. At that time, the cabinets will become the safest barrier that keep servers away from physical affects.
If placed inside with the good conditions about security and environment, you can choose the cabinet that has the grille door. If the server is placed outside, the cabinet with mica door will be best selection.
How to manage cooling infrastructure?
The operation of the server usually makes lots of heat. Therefore, you need to use cooling devices such as radiator fan, air conditioner, ventilation grid and the heat exchanger to maintain the efficient operation of the equipment.
How to manage wiring cap?
In additions, the rack should also install cable ladder, cable tray, cable management bar and fastener to arrange cable in a system.
Which devices will be set up in the cabinet?
Most of the equipment installed in cabinet has a depth of about 11 inches. However, others have twice as much depth. Currently, most of the cabinet will allow you to adjust the depth of the mounting bar. But knowing the exact depth of the device will help you make the right choose of cabinet.
 How many U of the cabinet are there?
U (1U = 1.75 inches equivalent of 44.45 mm) is the unit of measurement of EIA that measures the space of cabinet. Estimating the exact number of devices as well as the scalability of the system in the future will help you choose the rack with the appropriate U. The devices installed in the cabinet are usually designed based on this U.
For example, 2U server, server 6U, router 1U, router 2U…
What are special accessories of cabinet?
You can buy additional accessories for network cabinets such as: rail kit (support bar of mounted device), sliding tray, cable management bar, fixed tray … In additions, the removable tools will help you save a lot of time installing server.
How is electric power supplied?
Electric power is a very important factor of the server system. The cabinet should be connected to a power source to make the server operate. In necessary cases, the cabinets need to be protected when electrical problems occur.
The quality cabinets must have the space for installing UPS, the source bar and the grounding wires to help the devices operate safely and use energy efficiently.
What is the color of the cabinet?
Typically, the cabinet is painted with gray, black and silver. However, this is not mandatory. Some providers can adjust color of cabinet according to customer requirements.
5. Conclusion
Whilst considering both pros and cons of colocation in Vietnam, we found that the pros outweigh the cons in many ways. Whilst the cons demonstrate that colocation is not a good hosting option for many businesses due to their business demands and other factors. But the colocation does have some potential advantages that many businesses take off.