VinaHost Provide Cheap VietNam Hosting Full SSD, AutoSSL, Backup R1 Soft, Support 24/7, Optimize WordPress Site. Click Now!
If you run a medium site that needs to be protected by implementing advanced security measures, cheap Vietnam hosting is the right way to go.
1. What is web hosting?
Web hosting is the service that makes your website always available to be accessed on the Internet. It is known as a data storage space on the server, where installed services such as http (www), FTP or streaming media. Web hosting is also the information exchange environment for users and your websites.
A hosting vendor provides the technologies needed for the website to be accessed in the Internet. Webs are stored on special computers called servers.
The host is connected by high-speed Internet connection to distribute data to the internet environment by enabling users to download or send data. Each website always go along with a hosting, sometimes you can use more hosting at same time to meet the demands of the multiple website system. The websites like that often contain a huge data. So actually when you visit one website, you are accessing the host that contains this website.
2. Types of web hosting
There are four different common types of web hosting: Shared hosting, Virtual private server (VPS), Dedicated server and Cloud hosting.
While all types of hosting servers will work as a storage center for your website, they differ in the amount of control panel, storage, load speed, technical knowledge requirement and reliability.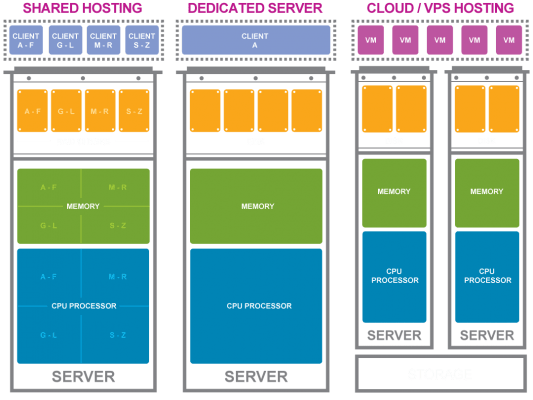 Shared hosting
VPS
Server
Cloud server
In shared hosting, a website is placed on the same server as many other websites, ranging from a few to hundreds/ thousands. All of domain names will share a common pool of server resources like RAM, hard disk and CPU… As cost is relative low. Most sites with moderate traffic and standard software are hosted on this type of server. Shared hosting is accepted widely as the start hosting option because it does not require much technical knowledge.
A Vietnam VPS divides a server into VPS by virtualization technology, which creates a space where each sites is stored on their own dedicated server. Actually, they're sharing a server with other users. You will have root access to their virtual account and safer hosting environment with this type of hosting. This is a good choice for those who needs greater control at the server level, but do not want to invest in a dedicated server.

A dedicated server provides the maximum control over the web server that your website is stored on. You rent an entire server and your website is the only website hosted on the server.

Cloud hosting provides unlimited ability to deal with high traffic. Here is how it works: A team of servers work together in order to host a group of websites. This will allow multiple computers to work together to handle high traffic for any website.

Disadvantages

Limited ability to deal with high traffic volume, no root access, web performance can be affected by other sites on the same server.

Disadvantages

Limited ability to handle high traffic, your website performance can still be somewhat affected by other websites on the server.

Disadvantages

With great power comes… well, greater cost. Dedicated servers are much more expensive than shared hosting and it is only recommended to those who require the maximum control and better server performance.

Disadvantages

Many cloud server Vietnam providers don't provide root access (needed to change server installation and set up some software), higher cost.
3. Tips to choose best Cheap VietNam Hosting
There are thousands of hosting providers out there, so how do you know which is the best one? The followings can help you choose the right hosting service.
Stability
Uptime and downtime are two concepts referred to the availability of a service or technology.
Uptime is a computer industry term for the time during which a computer is operational (the time the website works normally).
Downtime is the time when it isn't operational (time of website "dead", not accessible)
An effective website not only has to have high load speed but also has to be "Uptime". This means that your web server must operate stably. Users can visit your website at any time so if your website is not available, it is really a bad thing. Top reliable Cheap VietNam Hosting providers can be committed to offering 99.999% uptime hosting. Therefore, you should consider carefully before choosing any provider's service that has a lower Uptime commitment. The best choice is which provider that places their servers in Tier datacenter with the highest Uptime commitment.
Tip: Many web hosting in Vietnam providers apply refund policy to customer if the downtime last too long. However, customers have to prove "How long does the Downtime last?". If you encounter this, Google some of the following tools to check the Up-Down time of your website: Uptime Robot, StatusCake, UpTimeDoctor, UpDown.io..
Speed
Speed ​​is a very important factor when evaluating a website or application. Loading speed ​​affects both user experience and search engine optimization process (SEO). According to https://www.radware.com, web load rates have had a tremendous impact on business performance, particularly in ecommerce as follows:
1s-Delay can reduce sales by up to 7%; this 1s-Delay can be web loading time.
47% of web users expect a site with an average loading time of 2 seconds.
At peak hours, 75% of users are willing to visit another website instead of waiting for a website with too slow load speeds.
Besides, load speed is seen as an important factor to rank websites as it significantly influences the user experience. In order to speed up the web load, what you need optimize are source code, image, Internet speed and Cheap VietNam Hosting. Therefore, many good hosting providers often use powerful hardware and integrate tools to speed up your website, such as cache, Web server… You can choose Shared Hosting, VPS, Dedicated Server or Cloud Server depending on average monthly traffic and type of your website. That will help new users to get what they want more quickly and easier.
Tip: You should choose the providers that publish detailed parameters of the Cheap VietNam Hosting package they offer. Also, you can use these tools to test the speed of the website: WebPageTest, Insights Pagespeed, Google Analytics Plugin By Yoast, Page Speed ​​Tool…
Pricing
Research the cost for your Cheap VietNam Hosting providers comparing each company you consider and remember that there may be variances in cost based on the available features. So make sure you narrow your choices to the ones that have the functions you want first then compare like functions. Choose the best combination of cost and functions. Also, consider the payment plans and determine if these are convenient for you. Many hosting plans will extend a discount if you pay an entire year up front. If you cannot afford to do this how often is the bill due?
Considering a hosting Vietnam free? For businesses this is not recommended. Most free hosting plans make their money on advertising revenue. The ads disrupt your website with pop ups or banners that cannot be removed. It detracts from the professionalism of the website. For personal blog or websites, the ads may be acceptable. However, with so many Cheap VietNam Hosting now, why risk it?
Security
Secure Sockets Layer (SSL) certificates are a standard of secure, encrypted communication between Webserver servers and browsers. SSL plays some important roles:
Verify the authenticity, reliability of the website and enhance the reputation of individuals / businesses.
Make sure that all data, information exchanged between the website and the user is encrypted, avoiding the risk of interference.
Website is more secure.
Previously, not many websites are integrated with SSL and it was not popular with even users. There are large enterprises like bank websites, ecommerce websites… with SSL integration. However, this is no longer true now, as the data security of user and website become more important than ever. To protect users, Google has made these changes with their browser:
Chrome 56: Warning "Not secure" with online payment websites or website requiring a personal password for access.
Chrome 62: Warning "Not secure" next to URL when users enter information into the available forms and in an anonymous browser.
Chrome 68: Warning "Not secure" with all websites, not just e-commerce website, news website, entertainment website… This will be valid from July 2018.

With these changes, Google will make use of HTTPS is mandatory. If the website owner does not want to lose user because of lack of credibility and security, they have to integrate SSL with their site. Previously, since December 2017, Mozilla Firefox has also warned all HTTP web sites without SSL "unsafe." Therefore, it is good for you to choose hosting services with built-in SSL.
Tips: In addition, you should choose the Vietnam hosting company with the following features to ensure data security:
Regular Backups – Easy Restore.
24/7 support when problems occur.
Anti-DDoS and Anti-local hack.
Data privacy policy.
Refund policy.
Customer service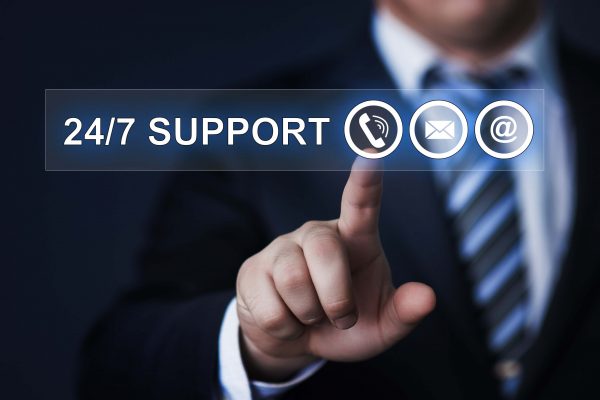 Will you get help when you need it? Customer service is sometimes one of those aspects people are willing to compromise so as to get a lower cost. But before you decide this's not important to you, consider your frustration and potential loss of income if you can't get help when you need it.
The customer service may include pre sales questions, billing and tech support. Many Cheap VietNam Hosting plans have a variety of methods for you to get answers to your questions so that you can do so quickly and thoroughly. Pick the hosting plan which has the best combination of options that suits to your demands.
Available options include the following:
Community networking – forums and blogs are a good method to allow users to help one another. This is also a great way to get assistance quickly. Consider the number of active users and frequency of posts.
Email support – this is typically handled via a help desk system where your query is put into a queue and answered in the order it comes in. Consider the length of time it takes for a response from your Cheap VietNam Hosting provider and how thorough the response is. Live Internet chat – this's where you actually chat on the Internet with a representative. Consider amount of time it takes to respond and available times for this service.
Telephone support – this's where a live operator will deal with your issues. Consider availability, hold times and knowledge of representatives.
Knowledge Base/ FAQ – this is simply a listing of popular questions and answers. A good stocked knowledge base can save lots of time so that you can help yourself by searching for the answers to popular questions. Consider the extent of the knowledge base and how often it is updated.
4. Conclusion
If you consider the most important questions carefully to ask about a potential new hosting Vietnam, it will save you lots of time, energy and grief in the long run. Carefully researching the possible Cheap VietNam Hosting plans before you make a decision will make sure that you have a quality service at a competitive rate that can suit your business or personal demands.