It's necessary for you to build a website with a buy domain vietnam when starting your business in Vietnam. Follow these tips to buy the best domain!
 1. What is a domain name?
As we know Internet is a global computer network created by million devices all over the world. Unlike multiple organizations as telecommunication network, the Internet was constructed by just one level.  That means every single device connected to the Internet will play the same role and be equal to each other. Due to that such special structure, the address on the Internet is also established by specific way.
For example, an address on the Internet is 248.153.120.521. Users can't remember that long and complex addresses so we use a simple name to name it.  That's called a domain or domain name.
The domain name is used to identify the location of a computer on the Internet. It is also the name of networking and server on the Internet. Especially, a domain name is the only one on the Internet. It is formed by the rules of the Domain Name System (DNS). You can't register one domain belonging to someone. If you want to buy a domain for your business, let check if it is available or not, and register domain name before someone buys it.
2. Structure of a domain name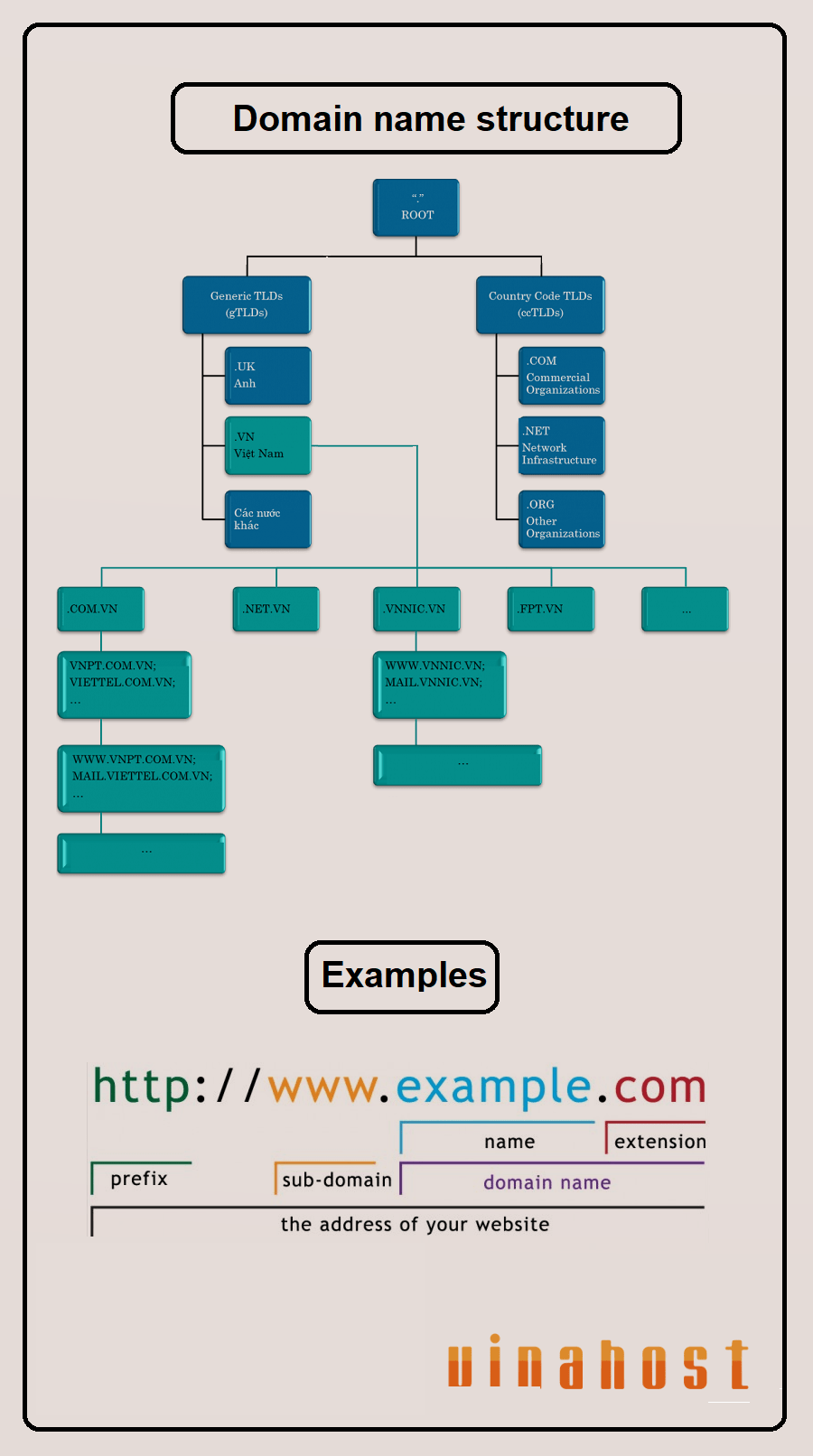 A domain .com.vn includes many components separated by dot (.). For example: house.com.vn. Each component is definite as bellows:
"house": the name of the server
"com": second level domain name
"vn": the highest level domain name (top level domain name)
So what the different between the long and short domain name? One long meaningful domain name is really not hard to use and does not affect the access speed at all. But it is more convenience for user if you buy domain vietnam as short as possible. Because not everyone is proficient in using computer or the Internet, so sometimes typing a long and complex domain name into the browser address will make them uncomfortable.
3. 5 tips to buy domain vietnam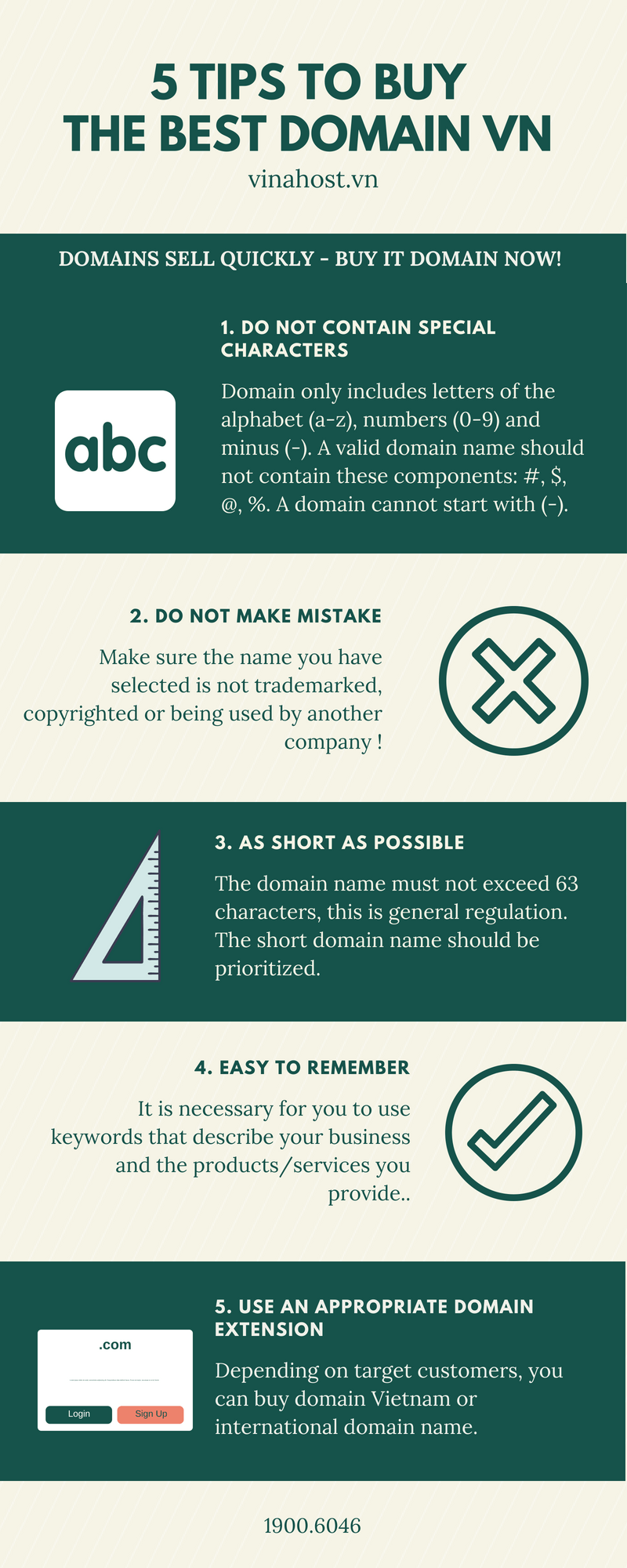 Do not contain special characters
Domain name only includes letters of the alphabet (a-z), numbers (0-9) and minus (-). A valid domain name should not contain these components: #, $, @, %. A domain cannot start with (-). Although (-) can be accepted in some cases, you should avoid this because it is not an optimized domain. Some people use domain contains (-) due to the best same domain belonged to others, but a domain like this will put a limit on SEO (search engine optimization). Besides, you have to notice that the spaces are also invalid in a domain name.
Do not make mistake
Make sure the name you have selected is not trademarked, copyrighted or being used by another company. It may result in a huge legal mess that can cost you a lot of money, as well as your domain!
Due to a lot of company uses the same the domain as yours, so customer can completely make mistake. They are likely to type your competitor domain instead of yours. If the competitors offer better products or services, the customer can buy from them. And then you lost your faithful customer!
As short as possible
The domain name must not exceed 63 characters, this is general regulation. The short domain name should be prioritized. Some customers are not proficient in using the internet so sometimes it is not good for user to type long domains when they want to access to websites. Moreover, you should know that many competitors can chose the same domain name as yours. So let research carefully before buying a short domain.
Use an appropriate domain extension
Extensions are suffixes, like .com or .net, at the end of web addresses. These can have specific uses, so ensure to choose one that works for your business. The .com domain extension is far and away the most popular, but it can be tough to get a short and memorable .com domain because it has been around for so long.
Depending on target customers, you can buy domain vietnam or international domain name. These followings are the most popular international domain extensions:
.net (network): organization and businesses performed by network.
.org (organization): organizations and enterprises related to politics and society.
.com (communication): individuals, organizations and businesses in general.
.info (information): organizations in the fields of economics, politics, culture, society.
.gov (government): government organizations from local to central levels.
.biz (business): individuals, organizations, business as the same as .com.
If your sites get domestic traffics, you can buy domain vietnam to get domain – hosting solutions.
Thanks to WhoIS, any domain seller should display a textbox on its homepage, from which you can check the availability of your desired names. You should buy domain vietnam that is memorable to people (especially prospects and existing customers) and ranked amongst the first 10 listings of the major search engine results.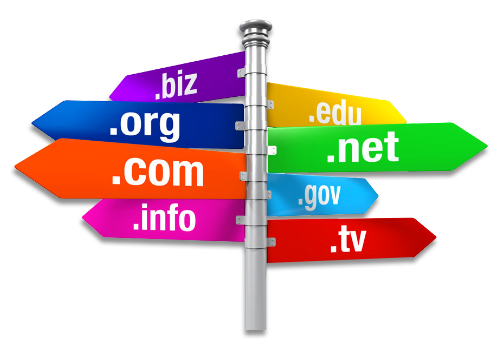 Easy to remember
There are millions of registered domains, so having a catchy and memorable domain is essential. Once you have come up with a name, share it with close friends to ensure that it sounds appealing and makes sense to others.
A domain should be easy to remember, read and write. It should be a short meaningful phrase. When customer want to access your website, it is easier for them to remember your domain. Domain is not only and online address but also company's brand, so making customers remember your domain will remind them of your brand.
It is necessary for you to use keywords that describe your business and the products/services you provide. For example, if you are a hosting business, you may want to register CheapHosting.com or HostingService.com. Remember to include the keywords that people enter when searching for your products or services. It helps improve your rank on search engines and just makes more sense to your customers.
4. Some common question – answer about domain names
What is a domain name (in simple way)?
Domain (Domain name) is an address of website on the internet.
For example, yahoo.com, google.com… It represents to numbers called an IP address. If you want to build a website, you need to buy domain vietnam. It is the important way helps users access to your website.
Where do you buy domain vietnam?
There are essentially 3 ways to buy domain vietnam:
An independent domain name for who that have their own server
Directly from a domain hosting VN vendor
Buying established domains expiring through an auction or 3rd-party bidding process
Can I buy domain vietnam without renting server space?
You absolutely can buy domain vietnam before having a website. When it complete and start to operate, you need to rent a web hosting.
Who can buy domain vietnam?
There are specific policies of domain registry in each country. However it is unlimited have for international domain name. All individuals, organizations all over the world can register one or more domain names as they want.
How many types of domains?
There are 2 types of domain: international domain names and national domain name. International domain names end with .com, .net, org, .biz, info. National domain names end with the symbol of a nation. This is call domain name extension. Example: com.vn, edu.vn, net.au, org.cn, com.us…
What is the difference between types of domain extension?
No regulations required for international domain names .com, .net, .org. The domain name .com is used for business and commercial organizations. .net domain extension is used for companies providing internet services. .org extension is used for government and nonprofit organizations.
How long can I register domain names?
Domain names can be registered for a period of 1 to 10 years. When domain has expired, you have to renew it.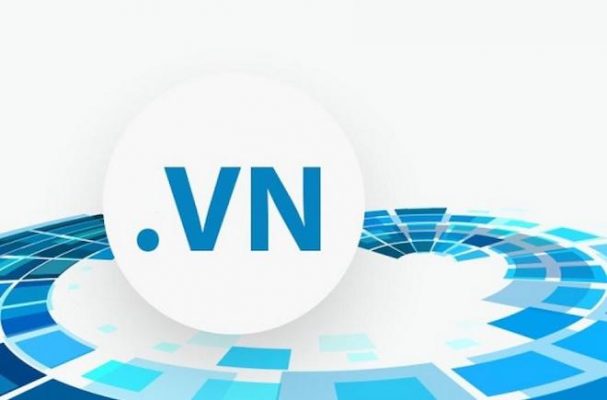 When you can use your domain name after it is activated?
Within 24 to 48 hours you can use the registered domain name. Even the domain name can be active immediately (this also depends on the system).
Who manages the domain name?
International domain names and 1st level national domain names are managed by Corporation for Assigned Names and Numbers (ICANN). In Vietnam, VNNIC is only domain Vietnam authorized organization. Customers possess completely the domain name.
What is parked domain?
Parked Domain (also known as Domain Alias Domain ​​or Pointer Domain) is the adding domain to domain hosting and operate like the main domain. This function allows multiple domains operating on one website as well as on the same hosting.
What is subdomain?
Subdomain is extension of main domain. Subdomain help user to create many URL address.
What is add-on domain?
This domain will be added to hosting with different structure with the main domain.
Add-on domains can operate on many the source code and URL will be independent to each other at the same hosting.
How many domain name you can buy?
You can answer this question depending on your budget. That means you can possess as many domain names as you like. It is important that the domain name must be meaningful to your business. No one buys a large number of domains without earning with it.
You can register one domain for your product or service. But one company cannot remind customer buying its products with only one website. Customers are usually intent to search product information on the internet before buying. They get information in many websites, blogs… not just one. So if you want to get effective business, let buy more domain names related to your business. Just imagine that the customer accesses to 10 websites and all of them are yours! That's great! This does not mean you have to create 100 websites. All you need to do is to transform 99 domains to one main domain, so easy, right?
A good domain is quickly sold out. Thankfully, they are also inexpensive, so register your favorite domains as soon as possible. Get trouble when finding the best domain name for your business? Register domain Vietnam with VinaHost will suggest alternate names during your domain search to help you find the perfect domain names.