VinaHost With Vietnam Email Hosting Providers (Inbox 99%) – Blocked Spam – Manage Group. Use Trial 7 Days Free. Click Now!
If you want to find professional email service providers in Vietnam, contact VinaHost for the best email hosting, email marketing and email relay.
Email hosting at VinaHost is an email service running on a dedicated server system with high security. Vietnam Email Hosting enhances the reliability of email and ensures that emails are always sent to inbox.
1. What is email hosting VietNam
Email hosting is a service that allows a hosting vendor rents out email servers to its clients. If have your own domain and want email service to run on that domain, you will need to register an email hosting plan.
2. Benefits of email hosting VietNam

Professional email hosting service brings users the following benefits:
– Have the rights to customize the configuration and the number of email accounts.
– Increase the trust and ensure the authentication of information when sending email to customers.
– Increase the rate of successful emailing to your inbox.
– Provides friendly user interface management.
– Enhance security, eliminate spam mails/IP blacklist and keep the email sending smoothly.
– Use own domain name, which is not offered by other free email providers.
– Get priority technical 24/7 support
Due to built-in dedicated server clusters, Vietnam Email Hosting has high stability. In addition, the IP sent from email hosting server is always accepted by other servers so the outgoing mail will be forwarded almost immediately.
3. The different between web hosting and Vietnam Email Hosting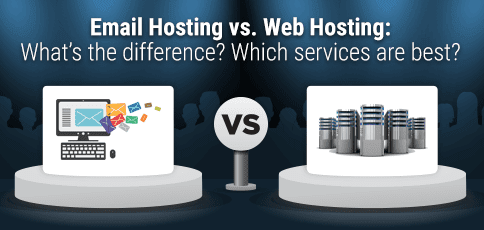 Web Hosting
Email Hosting
Web hosting provides customer with hardware resources like server space, memory, and bandwidth needed for your web to be online on the internet. Customers can create and host their site on a hosting so it can be accessed online via a web-browser.

If you imagine a site plus all its content as a store, a hosting simply provides the physical space to display the store's products—in this case, the web content including the text, images, videos and anything else that make up the site's content.

There're different styles of web hosting available to reflect the demands of different sites – from shared hosting with multi-sites sharing a single server to dedicated server, in which the user uses an entire physical server's resources.

Email hosting Vietnam is a service in which your emails and related files are all hosted on a server. When the sender sends you an email through your site's domain address, this mail hosted on the recipient server. At that time, the server administrators will decide which action to take bearing in mind any spam-filters, rerouting requests and if the sender is on the blacklists.

Email hosting can be the same server that is hosting your web, a server managed by another hosting, or 2 servers managed by the same hosting vendor. Vietnam Email Hosting vendors may specialize in offering only email hosting services, but it is more typical for business to offer bundled emails and hosting plans nowadays.
4. Features of VinaHost email hosting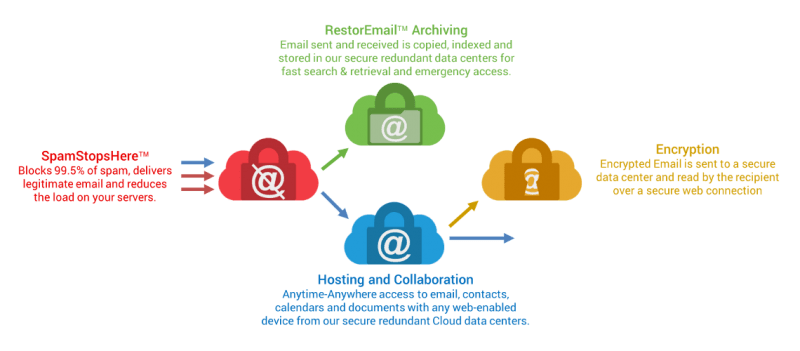 Whilst there are free plan available with many email hosting vendors, many businesses take advantage of the benefits of professional email services. Actually, Good email hosting service takes place when both outgoing and incoming emails are administered by a dedicated server. With it, you should be able to concentrate on your business whilst the email hosting vendor manages your email service.
VinaHost believes in helping you get long-term success with your site, app or any other project. Email hosting at VinaHost is one of the best service we serve till now. Here are the features of VinaHost email hosting:
Own email domains: There are many free Vietnam Email Hosting services that you may know like Google's Gmail, Microsoft's Hotmail, Yahoo and so on. Here are their Advantages and Disadvantages.
Disadvantages:
–  Less cloud storage space
– Weaker security measures
– May have irritating banners, or on/off page advertisements
– Visitors doubt your authenticity
Advantages:
– Free email services typically include enough file storage to meet the needs of small businesses and individuals
– Free with no commitment or contract
No personalized domain leads to difficult to remember, long and unbranded email addresses.Gmail, Yahoo Mail and other free providers don't provide customers with this feature.
Vietnam email hosting at VinaHost allows you to use your own email domain. A professional email adress is the key in having a successful brand, and that applies to your online presence as well. By customizing the e-mail, you can make sure that your contact details are coordinated, creating a sleek and professional image which facilitates customers' trust.
Increase email delivery rates: Email hosting restricts spam, Blacklist IP, ensure sending and receiving email smoothly.
High compatibility: VinaHost' Email hosting has high compatibility with other mail servers like Google, Webmail, Yahoo, Outlook… Email synchronization across multiple devices, through webmail, smartphone and favorite email client (such as Outlook). No matter what email vendor your customers use, your email rate to inbox is always guaranteed.
Data transfer support: Customer will be supported to transfer data of email hosting to VinaHost.
Professional: Email hosting with your own domain will increase company professionalism and reliability. That's why a business email account is trusted more than a free mail account by the customers. A good email account is associated with a domain which is your company's business domain (on which your official site is stored). If the customer wants to know about your services, then they can easily recognize your site's address. This helps in gaining your customers. Once they know that you have a good reputation, they will cooperate with you easily, because they believe that they are dealing with the professionals.
Intuitive interface: Email hosting provides friendly user management interface.
More credibility: By having a professional Vietnam Email Hosting service, you can offer your business with much more – needed credibility. Therefore, your customers can visit your site easily and find out what they need. It will help you in gaining the trust of your customers.
Builds brand Value: As a professional email account is associated with an easily recognizable and unique domain address, it allows your customers to visit your site and know about you. This way the customers can easily associate with your brand, hence increasing your brand value.
More features: Professional mail hosting plans bring you more features and benefits than a free email hosting service. A free email service does not allow you to customize the mailbox size, whilst a professional service will allow you to do this task easily according to your demands. Also, the good Vietnam Email Hosting plans give you highlight features for your complicated task, like email monitoring, mail grouping that a free service cannot give. The professional email hosting plan for bigger enterprises even give the functions of shared contacts, calendar, backup and recovery of delete trash mail.
Cost effective: A good email hosting in Vietnam costs nothing in comparison to the advantages they bring you. Many users consider investing in email hosting as a wasteful expense but once starting to this service, they realize the value for the cost. At VinaHost, we offer basic email hosting service for as low as $2/Mo. We want to serve from SME to large businesses and we do so with our Vietnam Email Hosting services. That's whay all email hosting plans at VinaHost are priced to fit your needs. Check out our pricing to find the best solution for your business!
Enhance manageability: Any email sent to customers or company is strictly managed.
More Control: Professional Email offers more control and more features than a free email account. You can easily choose the space you need, and also customize it depending upon the requirement. One can also choose advanced features like monitoring, grouping, privacy and more.
More secure: At VinaHost, we use email server system to optimize the security and the stability of email hosting. With a white label Vietnam Email Hosting service, you can use your logo on the email account. This feature helps you to attach your brand name on the email account as well as keep the identity of the service vendor private and allow the users to use their brand name on the emails.
Flexible storage: We also make sure that its users get adequate storage space. All professional hosting companies provide storage space that is more than adequate to store thousands of critical messages. The more flexible an email hosting package is, the more it allows the users to increase or decrease storage limit.
24/7/365 support: Vietnam Email Hosting gets priority and free technical support. At VinaHost, we have the best experts of all email service including email hosting, email marketing and email relay. They will handle your issues 24/7 quickly and solve the ones that email hosting will not even get into. We provide customer with 24/7/365 support via 3 official channels: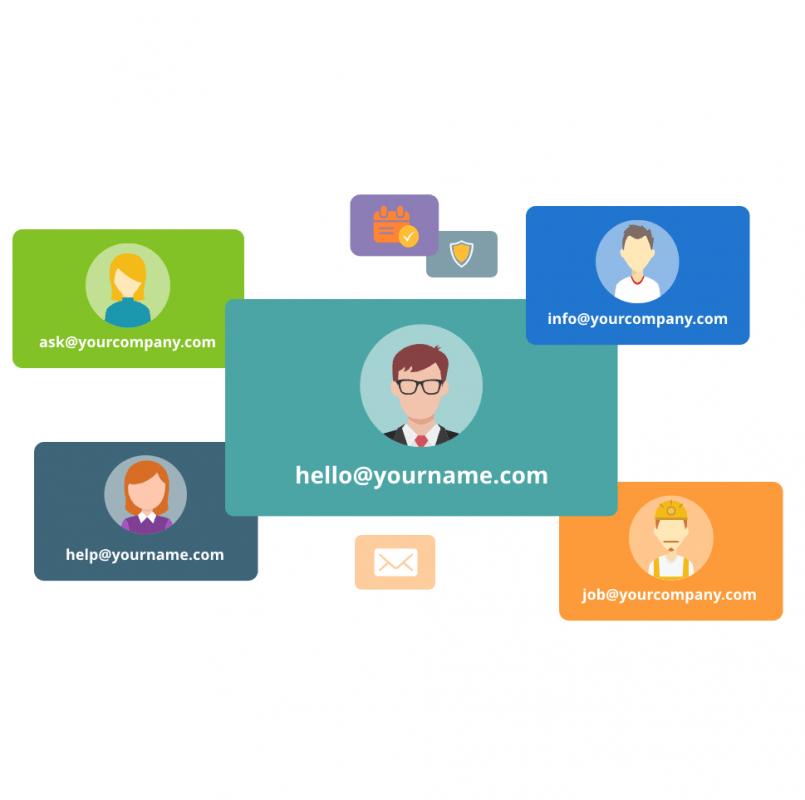 Anytime you get trouble with your email service, please contact us and wait for our respond within minimum 15 minutes. Unlike many other server hosting Vietnam providers, VinaHost have the best staffs that can support fluently in English; that why after 10 years of experience in this field, we have not only the loyal customer in Vietnam but also many customers around the world.
5. Register free email hosting trial plan
We welcome you to sign up for our free trial email hosting plan to experience the features and see if it fit your demand. Also, we offer 30days no questions-asked refund policy for all customers. So don't hesitate to contact us now to try our service.
As the professional Vietnam email service provider, we have the pricing strategy that is providing customer with the lowest cost for best service. Therefore, pricing is so flexible and meet the needs for any users. If you find that our present email hosting plan does not meet your needs, let us know so that we can improve it in upcoming versions.
You can send us question, review and feedback via email [email protected]. Your responds may inspire the change and brings benefits to all current & future users of us. We are so thank you for that!